Elberta Life Saving Station Wedding
Elberta, Michigan and Frankfort, Michigan Weddings
The Elberta Life Saving Station is a beautiful location for a wedding in Northern Michigan. It is located in Elberta and Frankfort, Michigan, about 40 minutes outside of Traverse City. The Station is an old Coast Guard Station that sits on Betsie Bay, which lead directly into Lake Michigan. It is a smaller intimate wedding location, however, it is fully capable of handling a large wedding reception.
There are multiples locations for the wedding ceremony sites in this area, ranging from the beach in Frankfort at Harbor Lights Resort, the the beach at Elberta, the Frankfort Bluffs, Lake Bluff Preserve, to the grounds at the Life Saving Station. Many couples will arrive at the reception on Salboat after taking a little trip out onto Lake Michigan during cocktail hour.
The reception can be held within the Life Saving Station if you have a smaller group of people. However, a larger group can be accommodated in a tent outside. This provides a lot of opportunity for options on how you set up your wedding reception. Many couples will take advantage of the deck on the Life Saving Station, which is decorated with twinkle lights, for the dancing portion of the evening.
Below are photos from multiples weddings at the Life Saving Station, and at the multiple wedding locations nearby to help give you an idea of what a great location for a wedding celebration this is. And this will help show you how you can set up different methods for enjoying your wedding and celebration in the Frankfort and Elberta Area. Enjoy!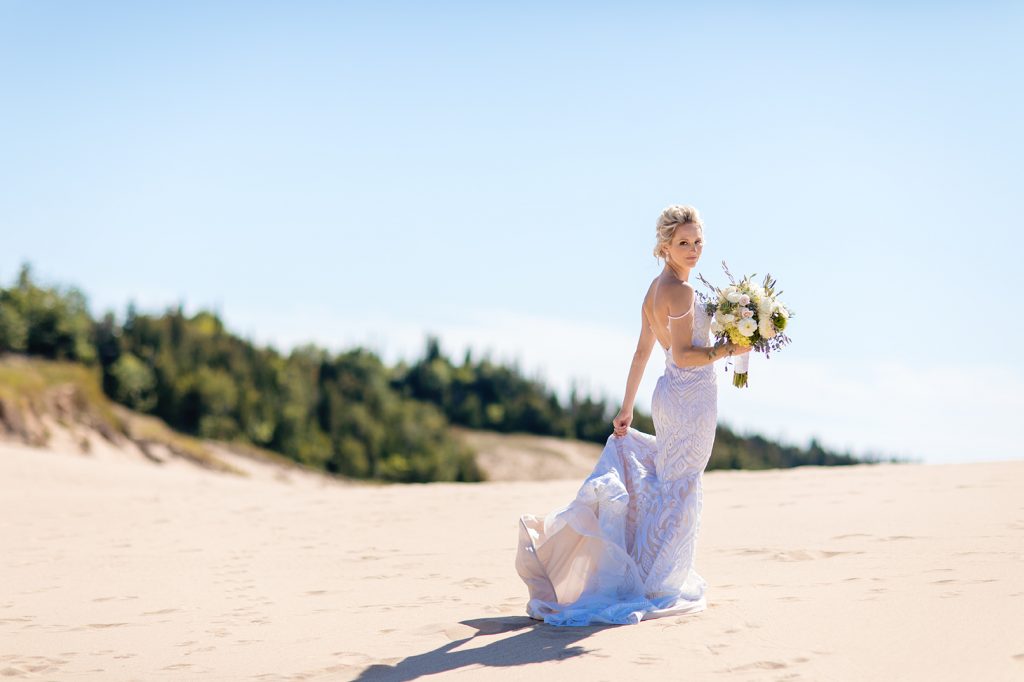 One of my couples married at the Life Save Station, Gina and Adam, are from Chicago and love visiting Northern Michigan.  The charm of the small town of Frankfort offset by the gorgeous waters of Lake Michigan and Sleeping Bear Sand Dunes made Frankfort the perfect location for their wedding and wedding celebration.
A lot of planning went into make this day perfect for them.  There were many searches online to find their nautical theme, random wandering around the area to find a sailboat and the perfect bluff location for pictures overlooking Lake Michigan, and a lot of coordinating with Kristine Mills from Simply Exquisite by the Bay to pull together their perfect day.  The last part of the celebration that needed to fall into place was the weather.
The weather was predicted to be rainy for their outdoor wedding.  As they were driving north from Chicago, they were very nervous about how the day would play out as they did not have a backup plan.  While driving along the shores of Lake Michigan, they stopped the car to take a little break late in the evening.  As they were sitting there, they looked out over the lake and saw some lights.  After a few moments, they realized that the Northern Lights were out that evening and they were able to sit and enjoy the show (a rare occurrence for the lower part of the state).  Seeing the Northern Lights was a sign for them that their day would turn out perfect.  And it did.
A wedding ceremony on the beach, beautiful weather, gorgeous water, a surprise sailboat ride, and lot of celebration with family and friends they love.  Their wedding was fantastic in every way, the joy and love from everyone was contagious.  
Ceremony: Harbor Lights Resort | Reception:  Elberta Life Saving Station | Florals:  Simply Exquisite by the Bay | Hair Stylist & Makeup Artist:  On Site Bridal | Baker:  Kittleson Cakes
—————————————————————————————————————-
Rayan Anastor is a Destination Michigan Wedding photographer serving Frankfort, Elberta, Beulah, Arcadia, Empire, Traverse City, Empire, Northern Michigan and surrounding areas. Serving venues such as the Harbor Lights Resorts, Elberta Life Saving Station, Lake Bluff Preserve, Watervale Inn, Crystal Downs, the Homestead Resort, Crystal Lake Weddings, Point Betsie, and Lake Michigan Beach Weddings.